Co-chairs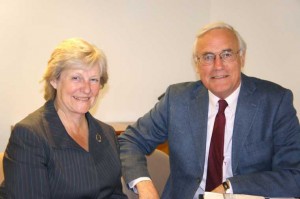 Dame Janet Gaymer
Dame Janet Gaymer is a leading employment lawyer and former Senior Partner of Simmons & Simmons. She is currently one of the independent lay members of the Speaker's Committee for the Independent Parliamentary Standards Authority and recently stepped down from the Board of the Financial Ombudsman Service Limited. Between 2006 and 2010, she was the Commissioner for Public Appointments in England and Wales and a Civil Service Commissioner.
In 2004 she was awarded the CBE for services to employment law and as Chair of the Employment Tribunal System Taskforce, and, in 2010, was appointed Dame Commander of the Order of the British Empire in further recognition of her public service.
Since 2008 Dame Janet has also been an Honorary Visiting Professor in Strategy and Human Resources in the Faculty of Management of Cass Business School, City University.
Sir Mark Potter
Sir Mark Potter was called to the Bar in 1963 and was appointed Queens Counsel in 1981. In 1988 he was appointed to the High Court (Commercial Court), trying all types of commercial disputes and arbitration appeals.  In 1995, he was appointed judge in charge of the Commercial Court in its Centenary year, prior to his promotion to the Court of Appeal in 1996.
As an appellate judge he sat in the full range of civil and commercial appeals and continued to do so for a proportion of each term throughout his appointment as Head of Family Justice between 2005 and 2010. From 2000-2005 he was also Chairman of the Lord Chancellor's Advisory Committee on Legal Education and Conduct (ACLEC) and its replacement, the Legal Services Consultative Panel,  advising government during a busy period of change and modernization in the supply of legal services.
In April 2010, Sir Mark retired as a judge of the Court of Appeal, President of the High Court Family Division and President of the Court of Protection and returned to the field of commercial law as an arbitrator.